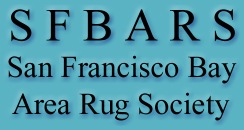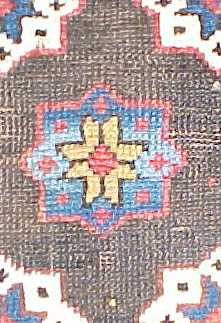 Updated March 5, 2017:
PLEASE BE INFORMED of the upcoming EVENT :
SAVE THE DATE!
Gallery Talk
Artful Weavings, featuring the John Corwin Afshar Collection
2:00 p.m., Saturday, March 11
Peter Pap Oriental Rugs
470 Jackson Street, San Francisco
Board Member Ben Banayan will guide us through the Afshar exhibit currently on display at Peter Pap's Gallery. It is a rare opportunity to see some exceptional Persian tribal and village rugs, many of the rugs were published.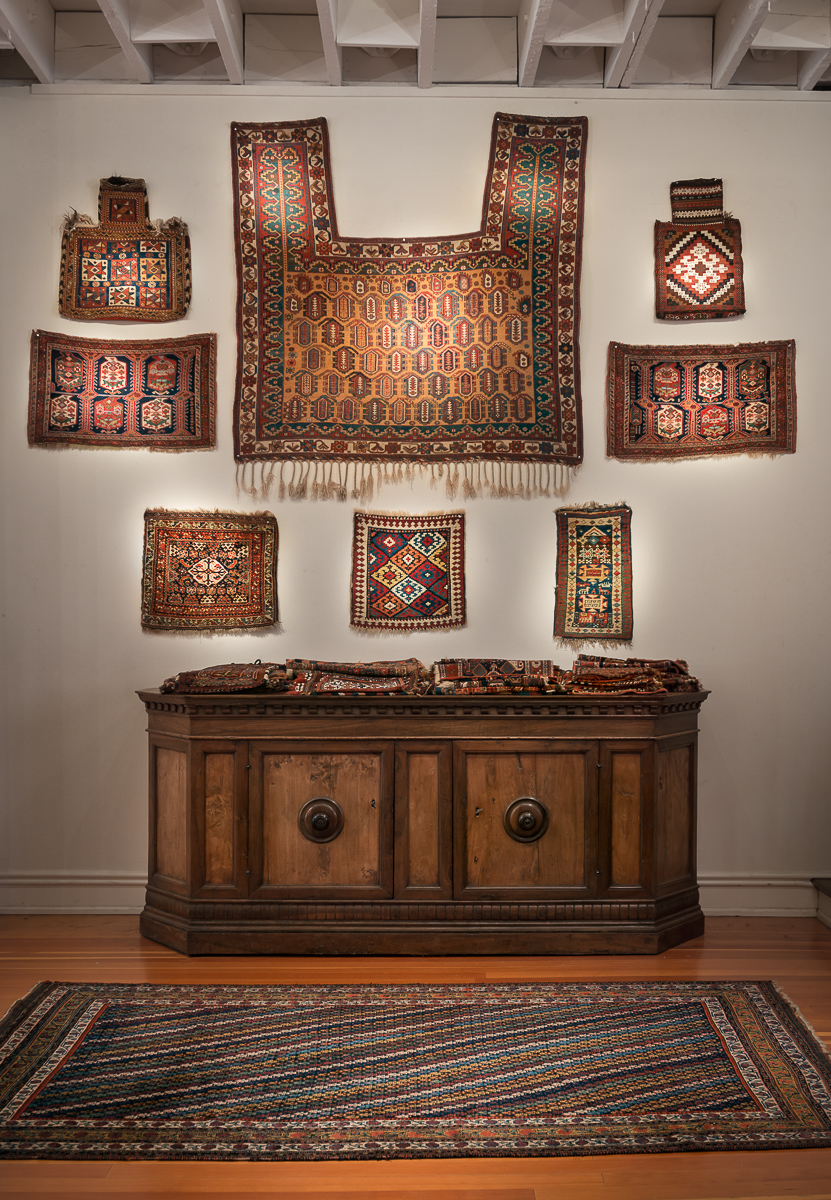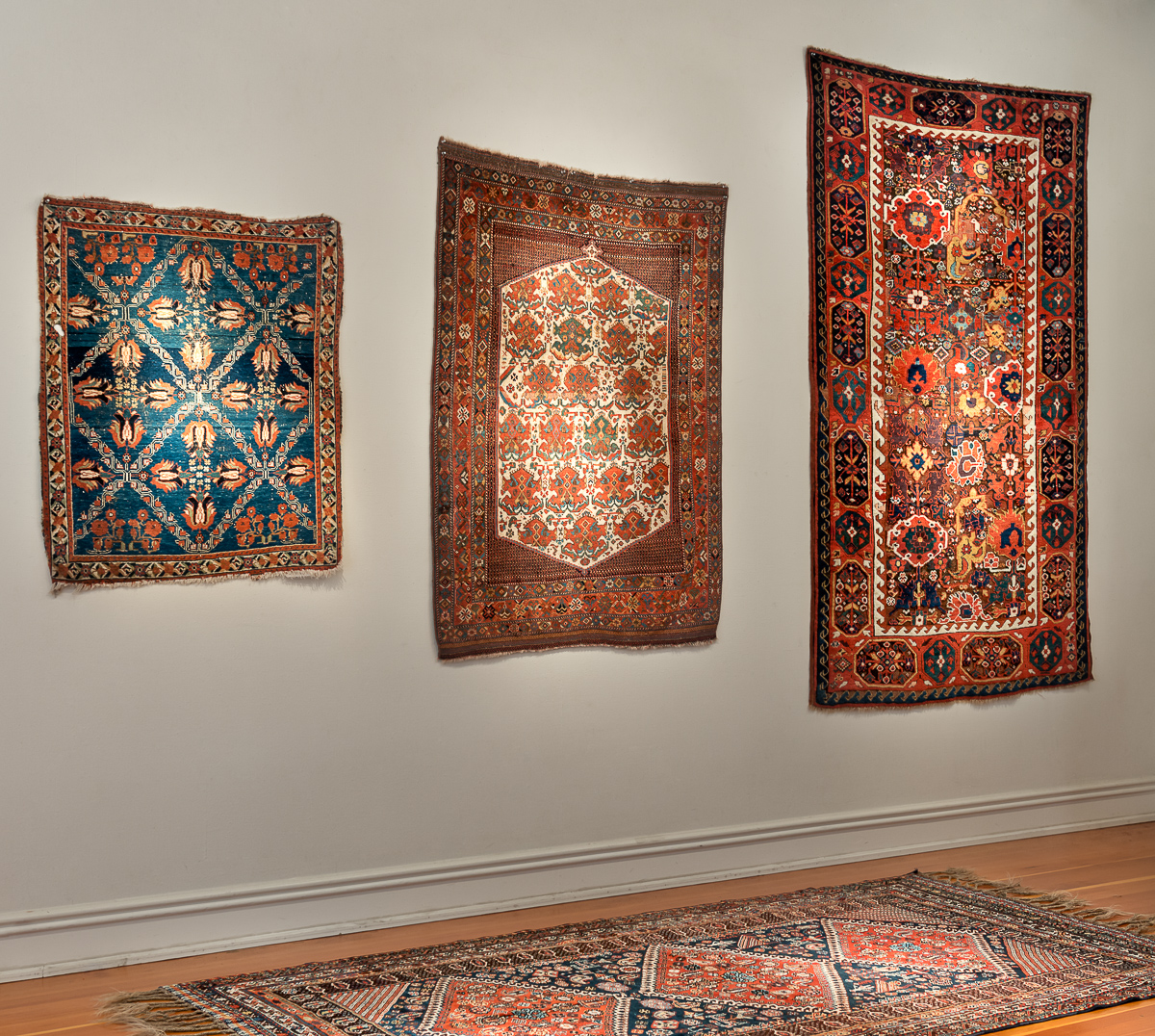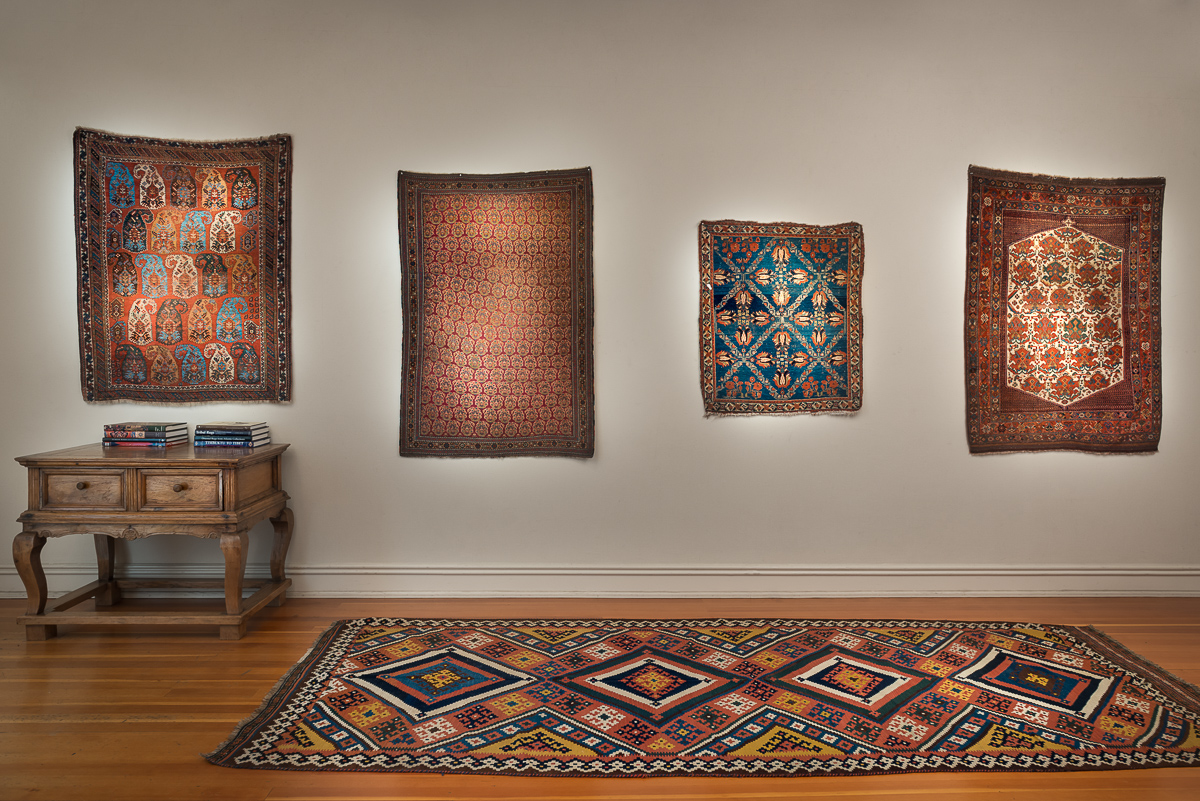 January Newsletter:
January Newsletter
SAVE THE DATES
February 11th, 2017
The Tenth Annual Caroline and H. McCoy Jones Memorial Lecture
February 9-12 Tribal & Textile Art show
Tribal show

The Tenth Annual Caroline and H. McCoy Jones Memorial Lecture
Dr. Richard Isaacson : The Tents and Furnishings of the Nomads of Central Asia
Saturday, February 11th, 2017, 2:00PM
Fort Mason Center, Festival Pavilion:
2 Marina Blvd, San Francisco, CA
SF Bay Area Rug Society Co-Sponsor with the de Young Museum
Dr. Richard Isaacson : The Tents and Furnishings of the Nomads of Central Asia
Dr. Richard Isaacson is a specialist of Central Asian textiles and carpets. He attended Columbia and Stanford Universities before receiving his Ph.D in Theoretical Physics from the University of Maryland.
Active with the Textile Museum in Washington, D.C., where Isaacson has frequently lectured and served as a member of the Textile Museum Advisory Council, he was the Guest Curator of Architectural Textiles: Tent Bands of Central Asia (March 30, 2007 – August 19, 2007), and From the Amu Darya to the Potomac: Central Asian Bags from Area Collections (September 7, 2001 – February 24, 2002).
Dr. Isaacson was a member of Local Organizing Committee for the 10th International Conference on Oriental Carpets (2003), Washington, D.C., and served as the Exhibition Project Manager for the ICOC show Treasures from the Museums of Uzbekistan.
Dr. Isaacson has published in Oriental Rug Review, HALI, Steppe, and Carpet Collector magazines, and is the author of Architectural Textiles: Tent Bands of Central Asia.
His latest publication explores archival photographs showing the use of Türkmen Door Rugs.

Presently at the Asian Art Museum
THE RAMA EPIC: HERO, HEROINE, ALLY, FOE OCT 21, 2016 — JAN 15, 2017
http://www.asianart.org/exhibitions_index/exhibitions RAMA EPIC
Also showing at the Asian Art Museum: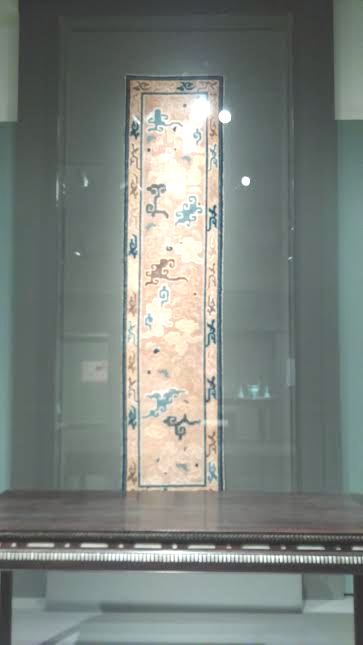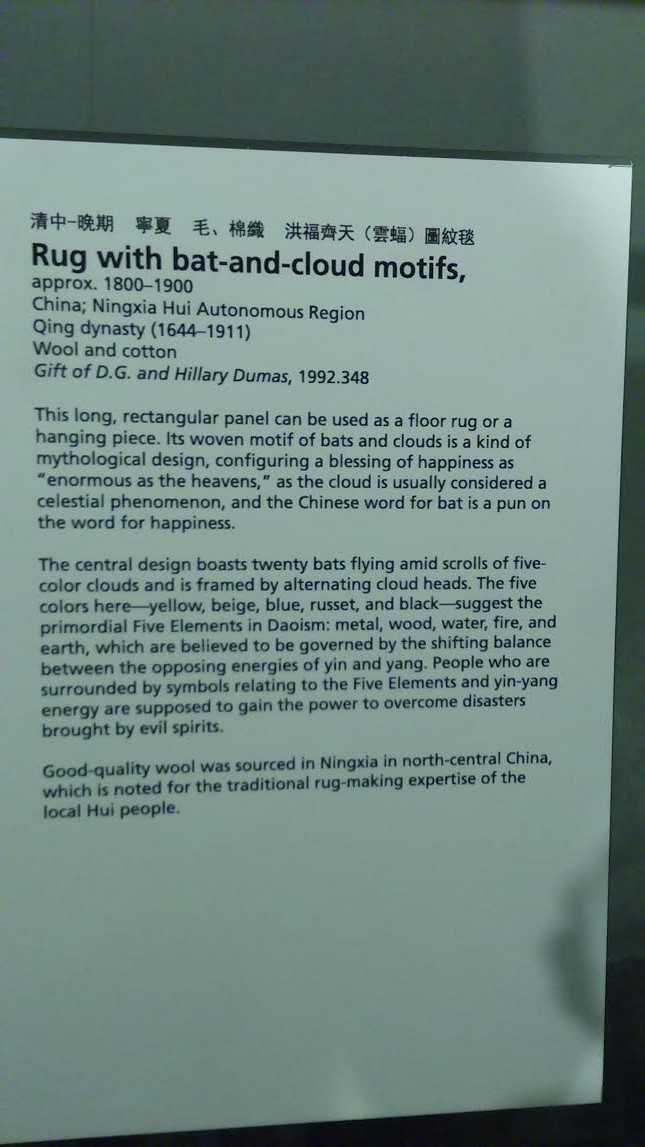 PAST EVENTS:
Schedule surrounding ARTS events:
Now going into its eighth year, the Antique Rug and Textile Show (ARTS) in San Francisco is the largest
show of its type focused exclusively on authentic antique rugs and textiles from weaving cultures
from across the world. The informal often festive tone of the show allows for a comfortable
environment in which to browse some of the best antique collectible rugs and textiles available on the
market.See below for details and related events during the show period, and see attached invitations.
Friday, October 21, 2:00 p.m.
The ARTS Opening Reception and Preview
Capri Motel, 2015 Greenwich
Dinner and wine catered by La Mediterranee will begin at 5:00PM.
The Opening Reception is $25 if you RSVP through the ARTS website or $40 at the door.
http://www.artsrugshow.org/reception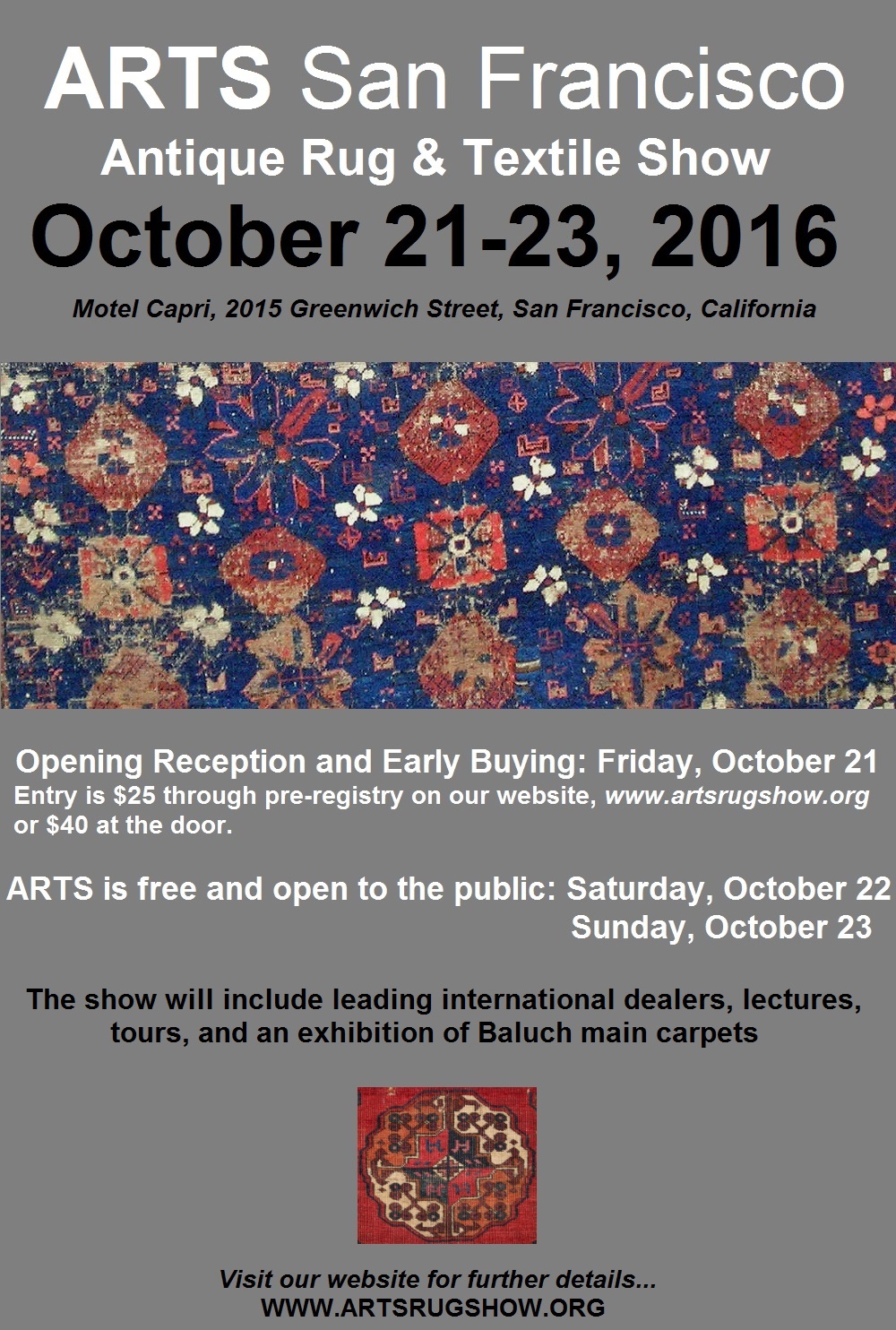 Saturday, October 22nd to Sunday, October 23rd, 10:00AM - 7:00PM
ARTS is open and free to the public
Saturday, October 22, 4:00 p.m.
Baluch Main Carpet Exhibit – ARTS
Capri Motel, 2015 Greenwich Street, between Buchanan and Webster, San Francisco
SFBARS is delighted to be a co-sponsor of a thematic exhibit of Baluch main carpets from private
Bay Area collections. The exhibit will run throughout the ARTS event, Saturday, October 22nd to Sunday,
October 23rd. 10:00am - 7:00pm, but SFBARS invites you to view it in the company of fellow members
on Saturday at 4:00 p.m. Ben Banayan, SFBARS Board Member and Curator of the Exhibit will provide brief comments.
The following evening, Saturday October 22nd, please join ARS for a party and brief talk at Krimsa Gallery.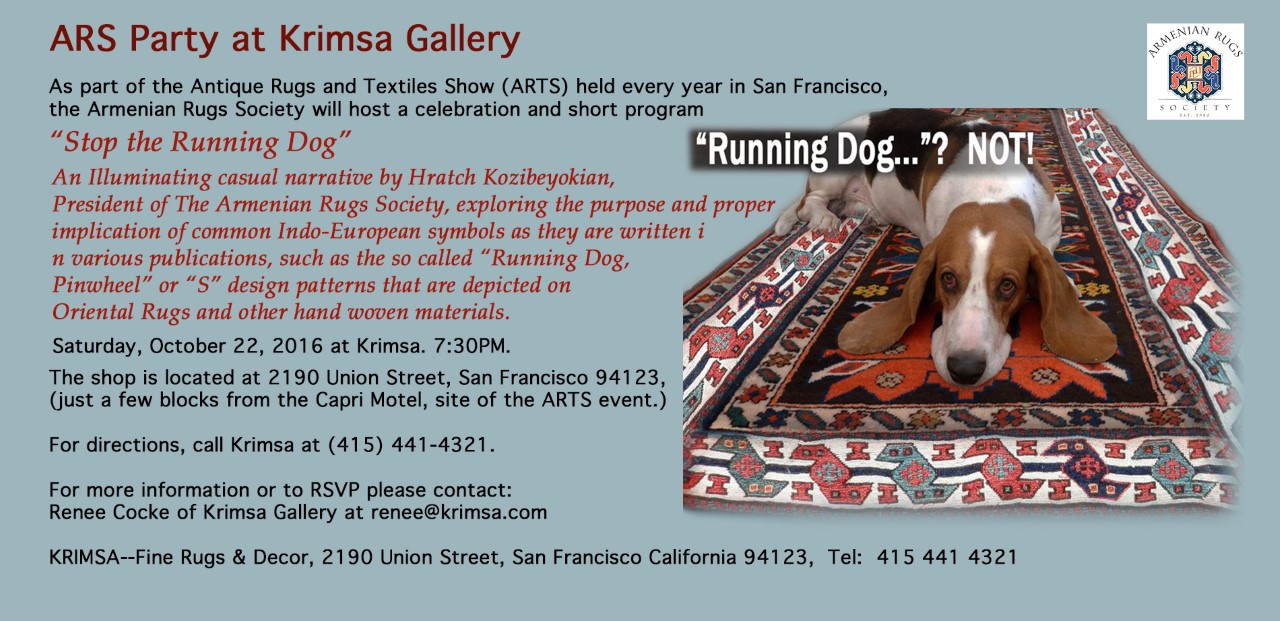 Saturday, October 22, 7:30 p.m.
The Armenian Rug Society: celebration and short program at:

Krimsa, 2190 Union Street ( just a few blocks from the Capri Motel, site of the ARTS event) ARS President, Hratch Kozibeyokian will give a though-provoking and well illustrated talk titled,
"Stop the Running Dog!" on motifs and symbolism in Near Eastern rugs and weaving.
Hratch, an expert on Oriental Rugs and Armenian weaving in particular based in Glendale, California,
has been involved in the rug world the majority of his adult life. he is further known for his erudition,
good nature, and humor and actively awaits your questions and input.
Invitation from Peter Pap:
Link to Jozan Magazine featuring ARTS!
Link to ARTS Antique Rug & Textile Show San Francisco Motel Capri
http://artsrugshow.org/
September newsletter
(please click on links)
September Newsletter
Interview with Jurg Rageth in Carpet Collector Magazine
Added 2002 and 2003 sfbars newsletters to links (open in new window)
May Newsletter
(please click on links)
May Newsletter
Sunday, May 22, 2016. 5:30-7pm
Weavings of Nomads in Iran:
Warp-Faced Bands & Related Textiles
Lecture by Dr. Fred Mushkat
Krimsa Gallery: 2190 Union Street, SF
See May Newsletter for details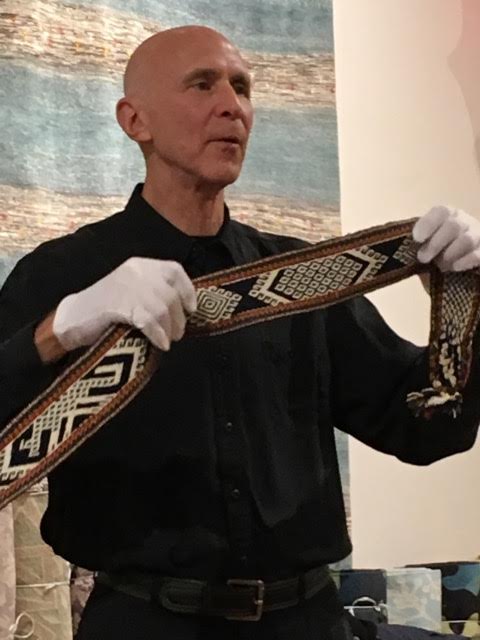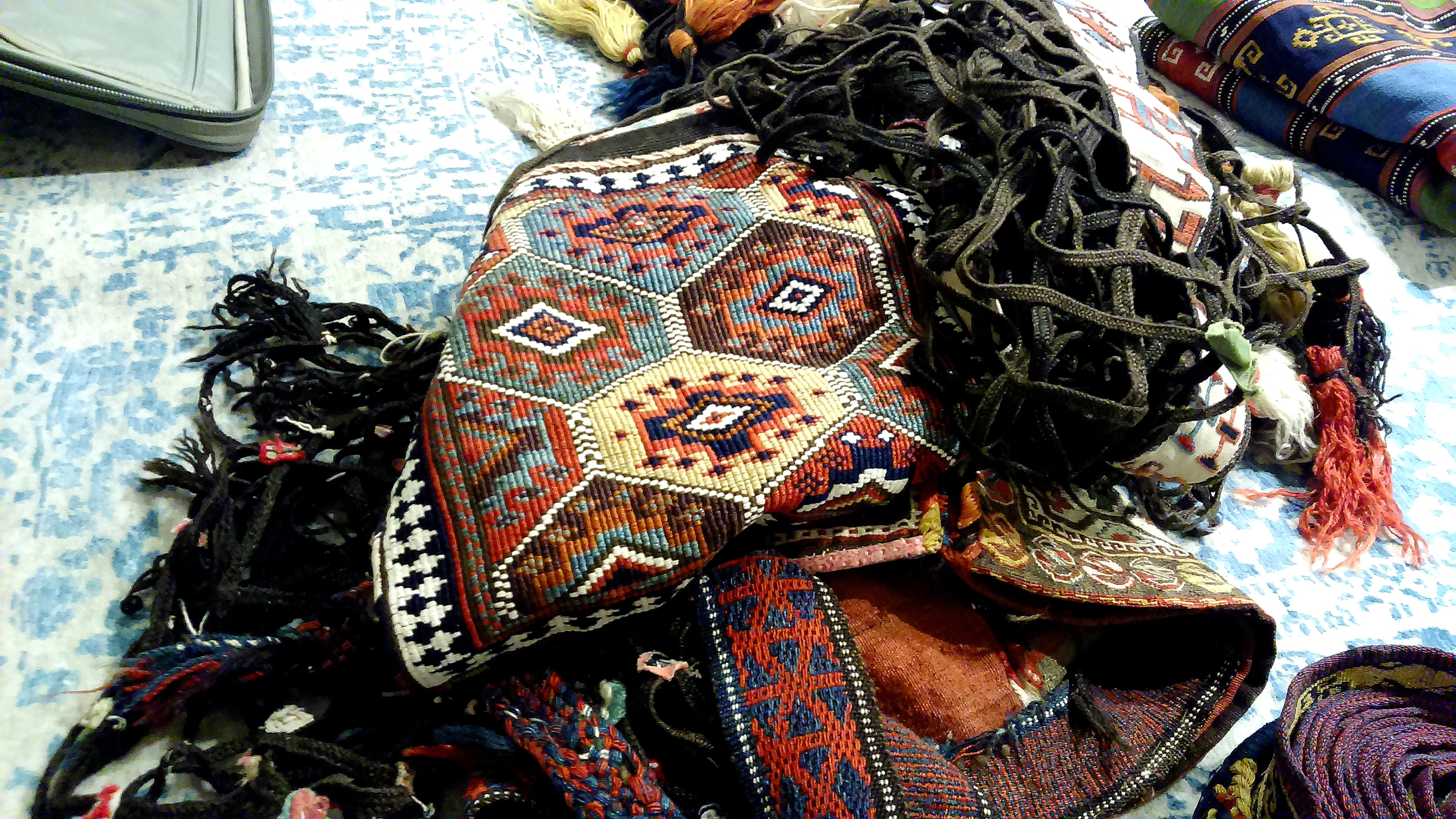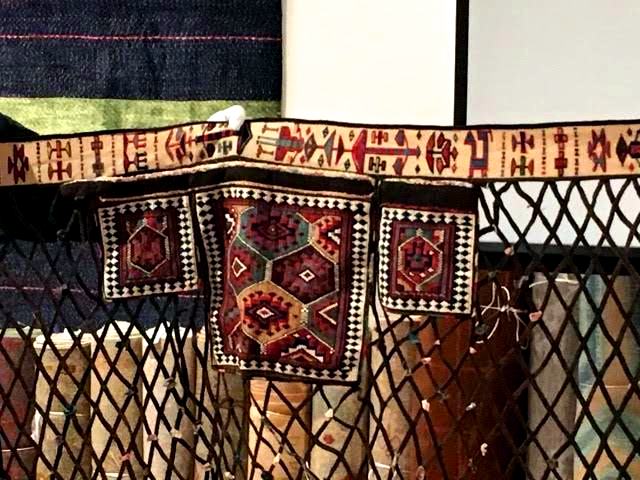 Meeting at Jim Dixon's June 26, 2016
Beshires and a show of Kazaks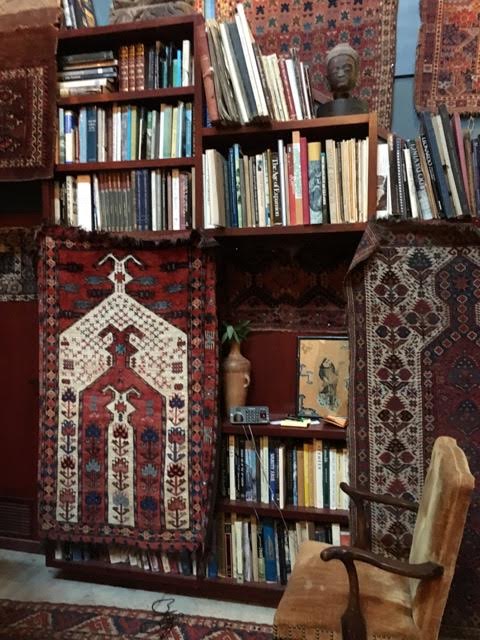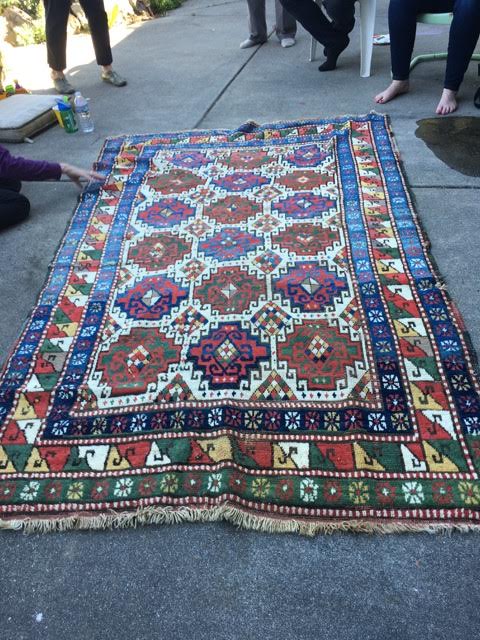 Fred Mushkat talked about tent bands from the Qashqaie nomads in southwestern Iran. Bittersweet. Their lifestyle came to a screeching halt when the government clamped down on their grazing patterns, and all of these bands, and their unique culture, are part of history now.
Karina Nilsen
UPCOMING EVENTS
Sunday, May 22, 2016, 5-7 pm
Dr. Fred Mushkat, South Persian Tribal Weavings, at Krimsa
Sunday, May 22, 2016. 5:30-7pm
Weavings of Nomads in Iran:
Warp-Faced Bands & Related Textiles
Lecture by Dr. Fred Mushkat
Krimsa Gallery: 2190 Union Street, SF
Warp-faced weavings made by nomads in Iran are an oft- neglected aspect of their weaving culture. These utility weavings include bands made for decorating horses, camels, mules and for attaching cargo bags to pack animals. Bands were used in tents for structural support and decoration. Other warp-faced textiles include tent and transport containers. Warp-faced flatweaves were placed over bedding bags in the tent, placed on animals and used as floor coverings. The use of this technically difficult group of structures declined dramatically beginning about a century ago. In addition to a talk about these weavings, Dr. Mushkat, will be showing examples from the major nomadic pastoralists in Iran, a number of which have not been seen in North America. Attendees are welcome to bring their examples for discussion.
Dr. Fred Mushkat received an M.D degree at Ohio State in 1976 and has been a practicing emergency physician since 1979. His interest in textiles began in 1977 when he began going to yard sales and finding an occasional Oriental rug. Like many people at that time, he became interested in "ethnographic" textiles and focused on non-commercial weavings made by nomads. Warp-faced weavings had these qualities and had been largely ignored by the trade. He began collecting bands in 1986. He published an article on warp-faced bands in HALI 84, in 1996 In 2001, he curated an exhibition of warp-faced bands from Iran at the American Conference of Oriental Rugs (ACOR). He is in the final stages of completing a book on these textiles, to be published by HALI publications.
&&&&&&&&&&&&&&&&&&&&&&&&&&&&&&&&&&&&&&
Sunday, June 26, 12-4 pm
Annual Potluck and Visit to Jim Dixon's Carpet Palace, Occidental
OF INTEREST
Saturday April 2, 5-7pm
Turkish film, The Dream of a Butterfly (2013)
Silk Road House, Berkeley
February newsletter
(please click on links)
February Newsletter
OLD NEWS BELOW
PEARLS ON A STRING
ARTISTS, PATRONS AND POETS AT THE GREAT ISLAMIC COURTS
FEB 26 — MAY 8, 2016
At the Asian Art Museum, San Francisco
http://www.asianart.org/exhibitions/pearls-on-a-string
Just a reminder to see the Asian art museum's exhibition of textiles. It is a small, but choice exhibit:
http://www.asianart.org/exhibitions_index/woven-luxuries
From the museum:
"The 11 textiles in this exhibition are selections from a private New York collection, providing a glimpse into the richness and diversity of Iranian, Indian and Turkish silk velvets. Spanning three distinct cultural areas with their own design sensibilities and tastes, this group of textiles showcases different techniques of velvet production and suggests their varied uses.
"Of special note are the two complete 17th-century carpets from India and Iran, each measuring nearly 6 by 4 feet and retaining not only their design elements but also their vibrant colors. These, along with nine other substantially sized textile fragments, show the cultural exchange between the Mughal, Safavid and Ottoman empires—linked by shifting ties of political, religious and economic rivalry"

March Newsletter
(please click on link)
March Newsletter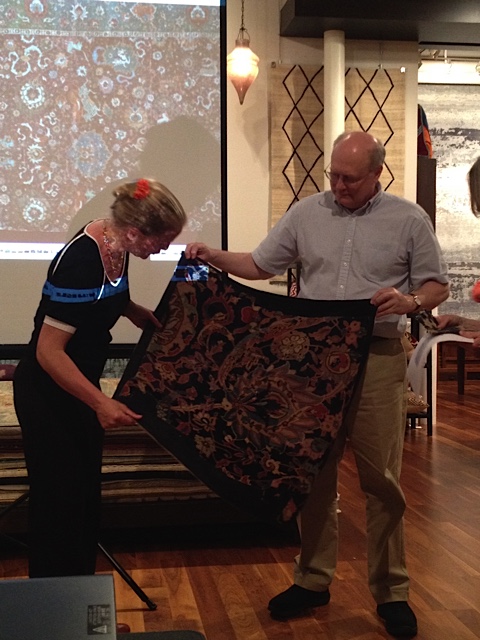 Peter Poulada and Anna Beselin examining Safavid "Vase Carpet" Jekyll fragment
Thursday April 30, 2015. 6:30 pm
"Reassembling a Persian Beauty" with Anna Beselin, Senior Textile Conservator Museum of Islamic Art, Berlin, Germany
At: KRIMSA: 2190 Union Street at Fillmore, San Francisco
Parking nearby at S&F Parking, 2001 Union Street
between Buchanan and Webster.
Free to dues-paying members of $5 at the door for non-members.
"...In a unique collaboration with the Museum fuer Islamische Kunst Berlin's conservation department, the two fragments are going to be rejoined after several decades of separation...."
Please click on "March Newsletter" above for more information.
New England Society newsletter
Save the dates!
Interesting tour:
May 19th-30th 2015
Notice from British textile researchers David and Sue Richardson:
We are delighted to announce that the dates of our 2016 tour will be 19-30 May. We will again be exploring some of the most beautiful islands of Indonesia - Flores, Lembata, Alor, Timor, Savu, Sumba and Rinca - from the comfort of the beautiful Ombak Putih.
Our days will be spent exploring weaving villages and learning about natural dyeing techniques, plus of course some time for snorkelling and relaxing on deck. Each evening we will give a talk on the people and textiles we will be encountering the next day.
The trip is limited to 22 participants. Why not be one of them and join us for the trip of a lifetime?
Full details can be found in this PDF brochure
https://drive.google.com/file/d/0BywpV66c5qIGMTN3TzBaUS03cm8/view?pli=1
&&&&&&&&&&&&&&&&&&&&&&&&&&&&&&&&&&&&&&&&&
at the Asian Art Museum, San Francisco
Woven Luxuries
Indian, Persian and Turkish Textiles
from the Indictor Collection
March 13--Nov 1, 2015

Please click on link:

Other out of town dates:

May 29-31

August August 6 - 9

Paul Kreiss the rug book shop:

You may be interested in news about 2 rug shows coming up:

ARTS Antique Rugs and Textile Show, which has been held in San Francisco for years, is coming to Boston on May 29-31. The San Francisco show is noted for the quality of the rugs shown. There are some details on the website: artsrugshow.org.

and the 13th ICOC - the International Conference on Oriental Carpets - will be in Washington D.C. on August 6 - 9 in conjunction with the opening of the Textile Museum in its new location. Registration will start on April 1; the number of registrants will be limited. The website is icoc-orientalrugs.org.

January Newsletter
(please click on link)
January newsletter

SAVE THE DATE!

Interesting tours:
Hali Tour to Spain and Portugal May 19-31 2015
http://www.hali.com/news/hali-tour-spain-portugal/

Hali Tour
and Transylvanian tour with Stefan Ionesco June 5-14 2015

Feb. 25 - March 10, 2015
TOUR TO IRAN
Vedat Karadag of Cultural Travel and Walk Turkey Adventures in Istanbul is organizing another tour to Iran, from Feb. 25 - March 10, 2015 out of Istanbul. Vedat led a very successful tour last year with a group of eight Americans, including several rug society members, who had a wonderful experience. It will be a small group, only 8–12 people, and there are still places left in the upcoming tour. A detailed description can be found on the Cultural Travels site, http://www.culturaltravel.com/Cultural%20Travel%20-%20Iran%20Tour.html and at this link (ATTACHED ITINERARY)
(please click on link)
IranTour itinerary
As you may know, Vedat is an enthusiastic ruggie, so that this trip will see lots of rugs and textiles, in addition to the expected sites to be seen in this ancient country. If you are interested, please inquire as soon as possible, since it takes a couple of months for visas to be processed. The deadline for registration is November 10, so time is important. For more information, please contact Mesuthan Ozgen or Vedat Karadag, Cultural Travel and Walk Turkey Adventures, Istanbul at info@walkturkey.com

Past events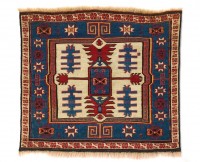 Saturday, February 7 : 1 - 3 pm
The Eighth Annual Caroline and H. McCoy Jones Memorial Lecture Women's Visions: A Nomad Legacy in Islamic Art
by John Wertime
Koret Auditorium, de Young Museum, San Francisco, CA
In the eastern half of northwest Persia and Transcaucasia, an ancient weaving culture once existed, wherein the women of nomadic pastoralist tribes and their settled kin produced utilitarian textiles of uncommon quality and beauty using the weft-wrapping weaving technique known as sumak. Outstanding examples from this rich tradition illustrate the lives of these nomad women, the objects they made, and the influences on their artistic visions.
John Wertime is an independent scholar, author, and lecturer on flat weaves and tribal carpets. His numerous publications include Caucasian Carpets and Covers: The Weaving Culture (1995) and Sumak Bags of Northeast Persia and Transcaucasia (1998).
This lecture is generously supported by the San Francisco Bay Area Rug Society.
http://deyoung.famsf.org/calendar/eighth-annual-caroline-and-h-mccoy-jones-memorial-lecture-womens-vision-woven-gems-islamic
March 22, 2015
"Colors of the Past & Threads of the time"

A Mini Symposium
Organized by: Armenian Rugs Society
Hosted by: Ararat Eskijiann Museum

15105 Mission Hills Road, Mission Hills, CA 91345
747.500.7585
Sunday, March 22, 2015
3:00-7:00 pm

(please click on link)
Mini Symposium
Armenian Rugs Society fb page: www.facebook.com/pages/Armenian-Rugs-Society/151443648200842
1. October 12th Sunday, 1-3pm Silk Road House
http://www.silkroadhouse.org/
The Silk Road House presents: "Tales from the Steppes - An hour of stories from Central Asia for families" performed by storytellers Diana Shmiana and Dana Sherry.
Our guests will bring you and your children on an imaginary journey to the Central Asia of folk tales, where friendship can transform mere gold into a true treasure, rascally boys can trick their elders, and pumpkins can have extraordinary adventures.
2. Wednesday October 15, 2014 Occidental, California
Picnic at Jim Dixon's
in conjuntion with ARTS (see next)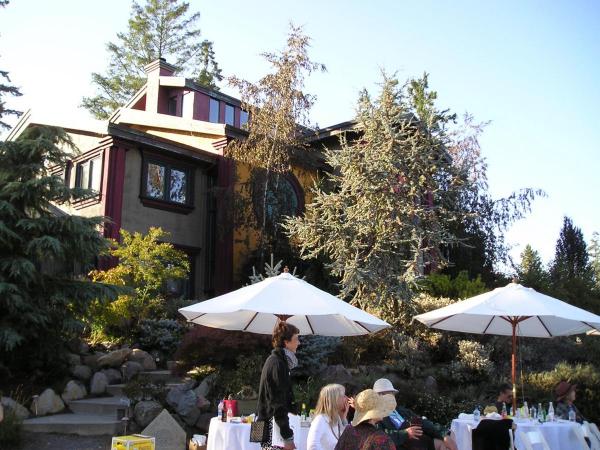 http://www.artsrugshow.org/node/7
3. October 16-19, 2014
ARTS: artsrugshow.org
ARTS is returning to San Francisco
October 16-19, 2014!
The Antique Rug & Textile Art Association (ARTAA) presents — ARTS, the 6th annual Antique Rug & Textile Show in the Marina District of San Francisco.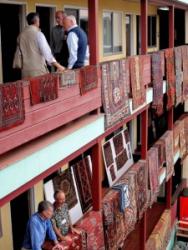 4. A series of lectures:
http://www.asianart.org/events/search?series_types=society+for+asian+art

May Newsletter
(please click on link)
May newsletter
PAST EVENTS September 4, 2014, Lauren Arnold at the Asian Art Museum, San Francisco
http://www.asianart.org/events/498?starttime=1409209200
The series of lectures:
http://www.asianart.org/events/search?series_types=society+for+asian+art www.asianart.org/events/search?series_types=society+for+asian+art
September 8, 2014
"Felts of the Kyrgyz" with Stephanie Bunn, Author, Researcher, and Lecturer in Anthropology, University of St. Andrews, UK.
To be held At KRIMSA gallery
2190 Union St, San Francisco, CA 94123
(415) 441-4321 6:30pm Monday, September 8, 2014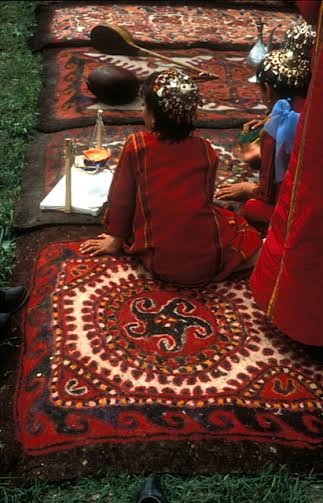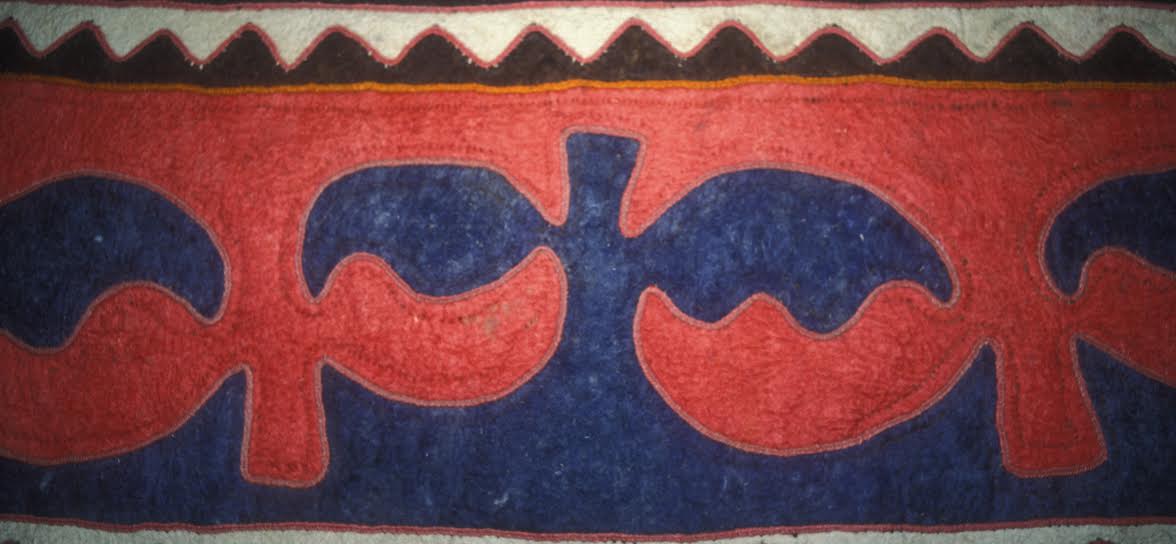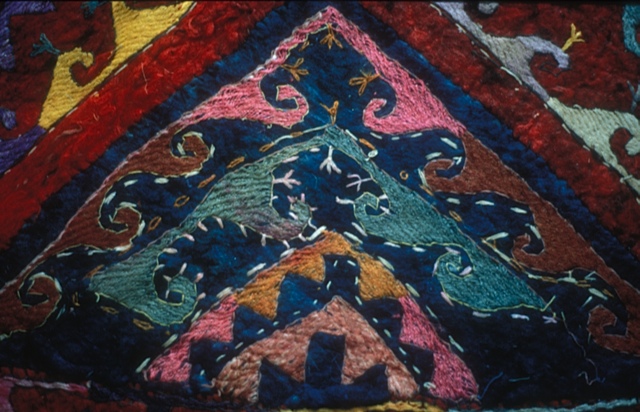 Abstract: Felt across Eurasia
Central Asian and Mongolian herders have made felt textiles for several thousand years, developing a great range of skills for use in felt production, and a diversity of uses for this ubiquitous nomadic textile. Kyrgyz, Kazakh, Turkmen, Uyghur, and Uzbek felts all have their own unique characteristics, patterns, colours and techniques. Mongolian felts, in contrast, are almost entirely monochrome, relying upon quilting to create a textured effect.

Afghan felt shows incredible diversity, reflecting this country's complex history of migration from the Near and Far East, and the North. The lecture will discuss how each group's unique and characteristic felt-making techniques and felt patterns are related. The link between pattern, belief and aesthetics will be explored, and the synthesis between the older Central Asian world view and that inspired by Islam will also be discussed in regard to its expression on felt carpets.

Biography

Dr Stephanie Bunn is a Senior Lecturer in the Social Anthropology of Eurasia and Material Culture at the University of St Andrews. She is also curator of the University's Ethnographic and Amerindian collections.

She has been carrying out research into Central Asian felt textiles since 1989, and has conducted field research among high mountain pastoralists in Kyrgyzstan between 1994 and 1997, and again in 2002, 2003 and 2011. Dr Bunn has also made collections of felt textiles for the British Museum, the Horniman Museum, and the National Museum of Scotland.

She collected and curated the British Museum exhibition Striking Tents and the Collins Gallery exhibition From Quilts to Couture. Her recent book, Nomadic Felts, published by the British Museum Press, covers the legacy of nomadic felt-making from Eastern Europe across Central Asia as far east as Japan. She has also edited the volume Kyrgyzstan on Kyrgyz costume and the work of ethnographer Klavdiya Antipina.

She is currently writing a volume on Kyrgyz felt textiles, nomadic beliefs and practices, and doing new research into Scottish vernacular basketry.

May Newsletter
(please click on link)
May newsletter
TOURS:
Hali Tour Hali tour
AND
ICOC Tour information November 15-21, 2014:
Registration CLOSED! all participants that have payed the tour fee will receive the detailed programme shortly
We are proud to announce that the ICOC Tour Vienna-Budapest 2014 is now open for registration.
We trust you find sufficiant information on the TKF website ICOC Touricoc-tour 2014
www.tkf-textilkunst.at at the relevant pages "ICOC-Tour Vienna-Budapest" - naturally we are still working to improve the overall programme and we will adapt this website accordingly.
Please note that there is a PRE-ICOC Tour to Lombardia by Stefano Ionescu. That offers the exciting opportunity to see the best of Italy, Austria and Hungary in one trip!
To register for the ICOC Tour Vienna-Budapest please use the PDF document that you will find at the bottom of the "how to register and pay" page. To register for the PRE-ICOC Tour to Lombardia please follow the instruction that Stefano Ionescu prepared for you.

Looking forward to seeing you in Vienna,
Peter Bichler
TKF / ICOC
bichler.austria@pgv.at

ICOC Tour How to register ICOC Tour 2014

http://www.tkf-textilkunst.at/icoc-tour-vienna-budapest-the-programme/icoc-tour-how-to-register-pay/

Always of great interest: Rug Rabbit albums and John Taylor blog
Rug Rabbit gallery Islamic art Berlin
Rug Tracker Rugtracker

Prince's coat, Central Asia, 8th century. Silk; weft-faced compound twill (samit), lining: China, Tang dynasty, 8th century, silk; twill damask. 18 7/8 x 32 7/16 in. (48 x 82.5 cm). The Cleveland Museum of Art, Purchase from the J. H. Wade Fund, 1996.2.1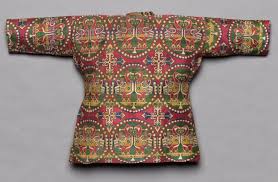 Prince's coat


September 2013 newsletter:
(please click on link)
September newsletter
New England Rug Society September Newsletter:

New England Rug Society September Newsletter
June 2013 newsletter:
(please click on link)
June newsletter
We have a facebook page! Please like us!
https://www.facebook.com/sanfranciscobayarearugsociety
sfbars on facebook
ARS: ARS October 18-20
R. John Howe's blog: Gordon Priest on Persian, Kurdish and Caucasian bags
April 2013 Newsletter:
(please click on link)
April newsletter

Save the dates!
To be announced Annual Gathering at Jim Dixon's Carpet Palace and Gardens

Past Exhibition at the deYoung At the deYoung. Jill D'Alessandro just opened a small exhibition of the deYoung's European textile collection
--from May 4, 2013 - August 4, 2013

European textile collection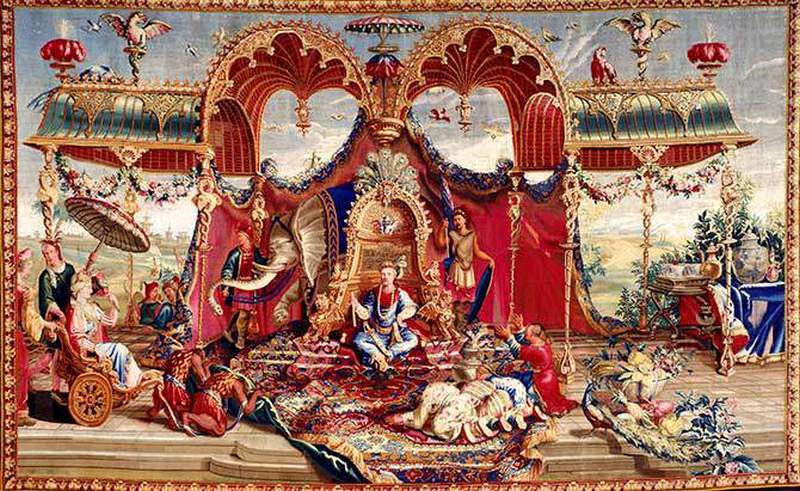 Saturday August 23 1-2:30 pm
ASIAN ART MUSEUM, S.F.
Samsung Hall

PERSPECTIVES ON PERSIAN ART: ANCIENT PERSIAN GARDENS: EVOLUTION AND LEGACY, WITH DR. DAVID STRONACH
Talks & Lectures, and part of Perspectives on Persian Art Lecture Series

AUG 23 Free with museum admission

Dr. David Stronach, University of California, Berkeley, professor emeritus of Near Eastern art and archaeology, kicks off the museum's new Perspectives on Persian Art lecture series with a lively talk about the influence of traditional Persian gardens in Asia and Europe.

www.asianart.org/events/491?starttime=1408518000

June 23, 2013 Annual Gathering at Jim Dixon's Carpet Palace and Gardens, Occidental

Armenian Rug society
See Lauren Arnold's spectacular flicker pages! The Carpet Index
Further information to follow on the ARS website
R. John Howe's blog: R. John Howe's rug blog

May 8, 2013 speaker: Walter Denny
"Carpets, Textiles and Islamic Art: Museum Practices in the 21st Century" Krimsa Gallery, 2190 Union Street, San francisco. Tel 415-441-4320
Walter B. Denny, Professor of Art History at the University of Massachusetts at Amherst will deliver an illustrated lecture about the planning and implementation of the new Islamic galleries at the Met., concentrating on the dramatically enhanced displays of carpets and textiles. He will also discuss the role of textiles and carpets in other new or renovated Islamic galleries, including the Museum of Islamic Art in Doha, Qatar, the Louvre in Paris and the Detroit Institute of Arts, the David Collection in Copenhagen, and the forthcoming Aga Khan Museum in Toronto.

An interesting new magazine:Carpet collector
An interesting blog "Where are the next generations of collectors to come from"
Eccentric Wefts

Calendar
Message to Members
For the 2011-2012 season, your SFBARS Program Committee, made up for now of Peter Poullada and Ben Banayan, have changed the usual pattern of meetings. Instead of trying to provide a lecture event each month or so, we have decided to concentrate activities around a few key events.
In general our idea is that events that have a social as well as an educational content are more successful and attractive to our members than simply a slide lecture. Thus we will seek to sponsor exhibits and team up with local organizations.
In this way we can bring you exhibits, lectures as well as social events. For suggestions for events of this kind, please contact Ben Banayan at benbanayan@hotmail.com.
Finally, since Peter Poullada officially retired from the position of President of the Society after ten years of service, effective July 1, 2011, the Board is seeking an appropriate replacement. Anyone interested in taking on the position or in joining the Board should please contact our Secrtary, Jon Elden, eldanj@yahoo.com.
Call for More New Blood!
We have welcomed Ben Benayan to our Board, and now we continue to look for committed and energetic individuals to join the Board and take an active role in the Society. We typically meet two times a year to organize events, review finances and plan new initiatives. We have several projects in mind for next year: recruiting new members, expanding and upgrading the web-site, arranging a variety of events, including our Annual Dinner/Auction, and raising our profile in the Bay Area community.
If you are interested in joining current Board members in any of these initiatives and/or in joining the Board, please contact Jon Eldan, Secretary, at eldanj@yahoo.com.
SFBARS is still looking for Members who are interested in taking leadership roles in the organizing of events and in helping out with hosting of speakers. We welcome those who wish to join the Board and help us continue the long tradition of a flourishing Society in the Bay Area. Anyone interested in asissting or joining the Board please contact Peter Poullada at sppoullada@sbcglobal.net. ...
Donors to SFBARS
We would like to extend special thanks to the following members who have made donations to the SFBARS Speakers Fund: Levon Der Bedrossian, Sue Zagars, Grace and John Smith, Barbara Levinson, and Leila Poullada.


LINKS


Thomas Murray Arts Website Update Announcement
Thomas Murray Arts
Thomas Murray Arts
* * * * * * * * * *
COTIC New Gallery Space
COTIC
Carpets of the Inner Circle: New Gallery Space

!! Books !!
Book on the Qaraqalpaqs: By David and Sue Richardson
Five Centuries of Indonesian Textiles, Ruth Barnes and Mary Hunt Kahlenberg, eds., has received the R. L. Shep Award administered by the Textile Society of America. Jill D'Alessandro acted as the awarding committee chair. This comprehensive volume highlights Mary Hunt Kahlenberg's personal collection of over 350 Indonesian ceremonial garments and textiles, which she has assembled over a 30-year period. Kahlenberg, a former Curator of Textiles at LACMA, has been at the forefront of the study of Indonesian textiles. For the first time important evidence for the antiquity of some of the textiles is given, including a surprising 15th-century date on some of the textiles.
Woven Structures: A Guide to Oriental Rug and Textile Analysis is back in print. Highly praised by the Murray Eilands, Marla Mallett's book presents, for the first time, meticulously detailed descriptions of knotted pile and flatwoven structures that identify not only weaving techniques but the design characteristics they encourage. For complete information, www.marlamallett.com/book.htm.
Beduin Weaving of Saudi Arabia and Its Neighbors. SFBARS member Joy Hilden will present a slide lecture and spinning and weaving demonstration at Bookworks in Albuquerque, NM on October 16, 2011. For more information, joy@beduinweaving.com.

THE SAN FRANCISCO BAY AREA RUG SOCIETY
**************************


&&&&&&&&&&&
Photos from the annual joint meeting with the Armenian Rug Society
Armenian Rug Society
Many thanks to the gracious hosts Araxi and Joe Bezdjian!
&&&&&&&&&&&&
Textile Museum News
&&&&&&&&&&&&
Inauguration
The Turkish Cultural Foundation announces the inauguration of the Natural Dye Research and Development Laboratory, one of the world's most advanced laboratories for research on natural dyes. Known as DATU in Turkey, the laboratory has been providing natural dye technical analysis services free of charge to museums and art institutions, including Topkapi Palace, in Turkey and Azerbaijan. DATU employs micro analysis techniques upon tiny fiber samples from antique carpets and textiles so that antique textiles can be properly preserved and restored. With one of the world's largest natural dye collections, DATU also can recreate natural dye colors used in traditional Turkish weavings. DATU's goal is to create a scientific inventory of natural dyes and contribute to the redevelopment of the natural dye production process, as well as spreading the use of natural dyes in textile production.

Other announcements
An interesting interview with Joy Totah Hilden author of a her new book Bedouin weaving of Saudi Arabia and its Neighbors

Links:

Video
Slideshow
Author
website

############################

Photos from Tom Cole Tribal Rugs opening:
############################
Duke Collection

References

When Carol Bier spoke to us in January, she promised to provide certain references people asked about. here they are:

Doris Duke's Shangri La -
http://shangrilahawaii.org/ is the site for the house itself with an option to Tour the Property, among many other options

Here is the database of the collection that is searchable on the web -
http://www.shangrilahawaii.org/page.asp?pageId=295

Information about Doris Duke the Collector -
http://www.shangrilahawaii.org/page.asp?pageId=232

Here is where you can download a PDF of the book "Doris Duke's Shangri La" by
Sharon Littlefield with an Introduction by Carol Bier -
http://www.shangrilahawaii.org/page.asp?pageId+279

############################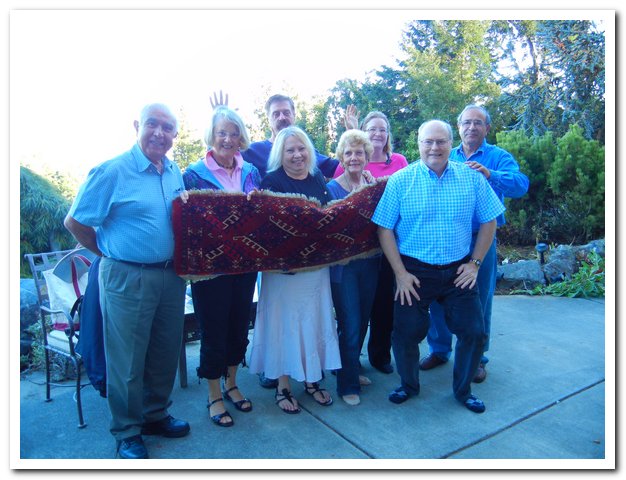 Peter Poullada, Jim Dixon and soome friends holding a Kizil Ayaq Turkmen trapping-- this last September 2011 at Jim's rug palace. A good time was had by all.
############################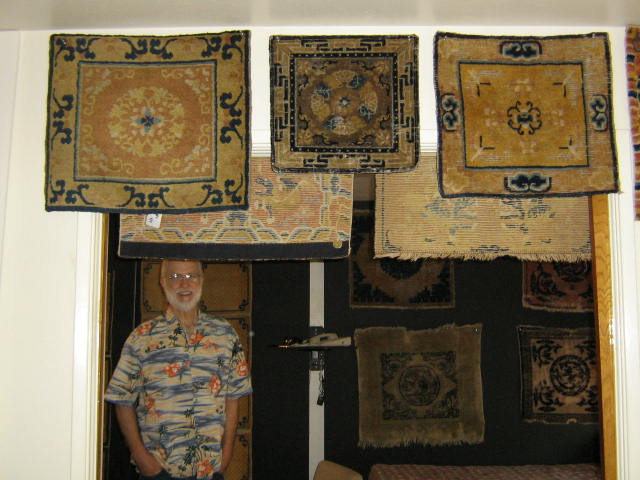 Jay Jones hosting the Chinese seat mat exhibition last year at the Capri Motel
References

Membership Renewal
Don't forget to renew your membership; we now keep memberships on an annual basis, starting the first of the year. A form is attached for your use. We also welcome new members, if you wish to pass it to someone else.